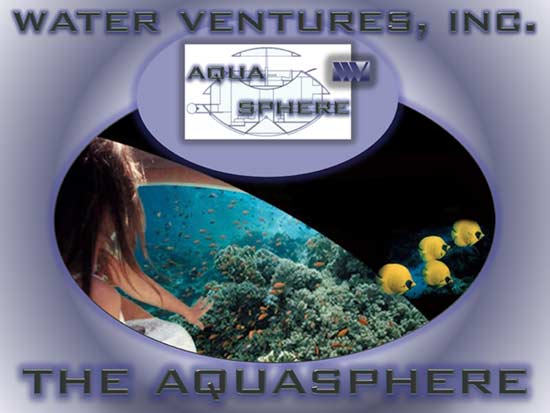 THE AQUASPHERE IS THE WORLDS NEW FLOATING HABITAT ALLOWING PEOPLE TO ENJOY THE MARINE ENVIRONMENT WITHOUT DAMAGING FRAGILE ECOLOGIES. ANCHORED IN LAGOONS, CORAL REEFS, NEAR ISLANDS, AND IN LAKES AND BAYS, THE AQUASPERE BRINGS MANKIND

CLOSER TO NATURE USING THE LATEST LUXURIOUS AND GREEN

TECHNOLOGIES.

EACH AQUASPERE HAS THE UNIQUE WRAP-AROUND 360-DEGREE WINDOWS, WHICH PROVIDES A PANORAMIC VIEW OF THE HORIZON, PLUS A LARGE GLASS BOTTOM WINDOW TO ENJOY UNDERWATER MARINE LIFE.

CONSTRUCTED AS VIRTUALLY ROUND SPHERES WITH BALLAST, GENERATORS, AIR CONDITIONING, WATER SYSTEMS, AND FURNISHED INTERIORS, THE AQUASPHERES ARE STABLE AND VERY COMFORTABLE ON THE WATER.
WATER VENTURES IS CURRENTLY WORKING TO DESIGN AND BUILD THE WORLD'S FIRST " FLOATING
ECO-VILLAGE" CONSISTING OF 24 30-FOOT DIAMETER FLOATING PODS. THESE FUTURISTIC HOTEL
ROOMS BRING TOURISM TO THE SHORELINES OF THE ANY AREA WITHOUT THE HEAVY ENVIRONMENTAL IMPACT OF RESORT DEVELOPMENT. THE FLOATING PODS CAN ALSO BE MOORED AT THE MARINAS AS OVERNIGHT STAY UNITS FOR VISITORS. EACH POD IS OUTFITTED TO
SLEEP UP TO 6 PERSONS IN TOTAL COMFORT WITH A 300 DEGREE VIEW OF THE SEA AND SHORELINE, A GLASS BOTTOM FOR VIEWING MARINE LIFE, A 42 INCH PLASMA FLAT SCREEN TV, STATE OF THE ART STERO SYSTEM, KITCHEN, AN OUTER SWIM PLATFORM AND A SUN DOCK. EACH POD IS MOORED TO A FIXED DOCK FOR EASY ACCESS FROM THE SHORE.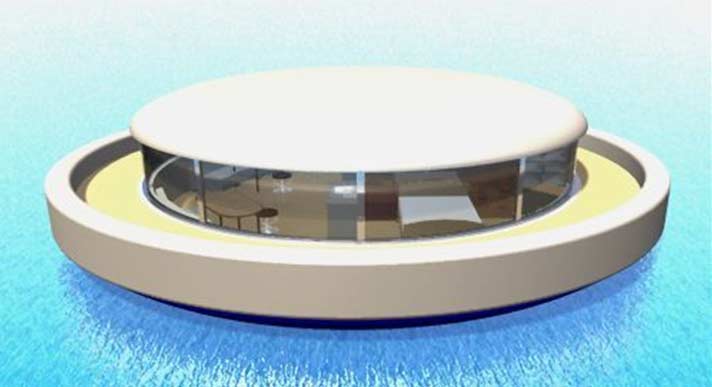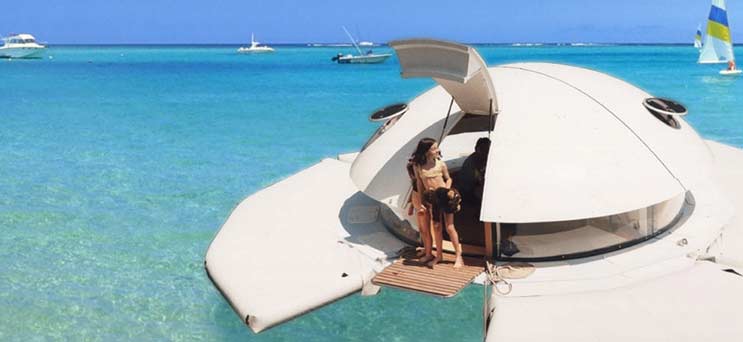 APPROXIMATELY 40 FEET OVERALL WITH AN CIRCULAR INTERIOR SPACE OF 30 FEET OR 10 METERS
AND FLOOR SPACE OF APPROXIMATELY 1,000 SQUARE FEET.

ACCOMMODATING FOR 6 PEOPLE WITH TWO PRIVATE CABINS AND FOLD OUT SOFAS. A SINGLE BATHROOM WITH ALL THE AMENITIES WILL BE CENTRALLY LOCATED WITH AN ENTERTAINMENT
AREA AND BASIC KITCHEN BAR COMBINATION IN THE COMMON SPACE.


WINDOWS WRAP AROUND 85% OF THE PERIMETER TO ALLOW FOR UNOBSTRUCTED VIEW AND UNDERWATER WINDOWS ALLOW FOR ENHANCING THE EXPERIENCE IN THE WATER.

WINDOWS ARE DOUBLED PANED TO ALLOW FOR CLIMATE CONTROL AND ALSO HAVE THE ABILITY TO OPEN FOR NATURAL VENILATION.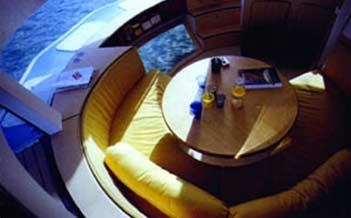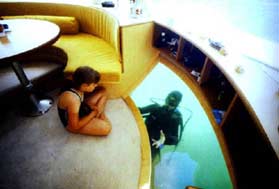 THE UNIT HAS CORIAN SOLID SURFACE ON ALL THE COUNTERTOPS AND BATHROOM. COUNTERS
INCLUDE SPACE IN EACH OF THE PRIVATE CABINS FOR A COMPUTER WORKSTATION. BATHROOM
HAS COUNTER-TOP WITH INTEGRAL SINKS.

THE MAIN LIVING AREA OR COMMON SPACE INCLUDES A SMALL UTILITY KITCHEN WITH BAR SINK, LIQUOR CABINET AND MICROWAVE AND REFRIGERATOR.

THE COMMOM SPACE INCLUDES AN ENTERTAIMENT SYSTEM WITH 42 INCH FLAT SCREEN TV AND SURROUND THEATRE SYSTEM FOR MUSIC AND MOVIES.

LIGHTING WILL BE LOW 24 VOLT USING A COMINATION OF DECORATIVE MARINE FIXTURES. ELECTRICAL SYSTEM IS POWERED BY DEEP CYCLE BATTERIES THROUGH A 4000 WATT INVERTER TO PROVIDE BOTH AC AND DC POWER TO THE UNIT.

PLUMBING IS SUPPLIED THROUGH A MANIFOLD USING PEX PIPING PRESSURIZED WITH A WATER PUMP AND ACCUMULATOR. THE UNITS ALSO HAVE A DC WATER TO PROVIDE FRESH WATER AND AN ON DEMAND HOT WATER SYSTEM.

SANITATION IS TREATED WITH A SANCOR VACUUM WASTE TREATMENT SYSTEM THAT IS ODERLESS AND TURNS SOLID WASTE INTO BIODEGRADABLE DRY POWDER.

EXTERIOR HAS A SOLID FOAM COLLAR TO PROVIDE EXTERIOR SEATING AND ALLOW FOR SUNBATHING AND OUTSIDE LOUNGING.

INTERIOR FINISHES WILL BE WOOD PHENOLIC VENEERS OVER A COMPOSITE SUBSTRATE.

EXTERIOR OF STRUCTURE IS COATED WITH AN EMULSIFIED EPOXY COPPER FLAKE COATING THAT PREVENTS MARINE ORGANISMS FROM FOULING THE STRUCTURE BELOW THE WATER WITHOUT LEACHING ANY TOXINS INTO THE SURROUNDING WATER BODY.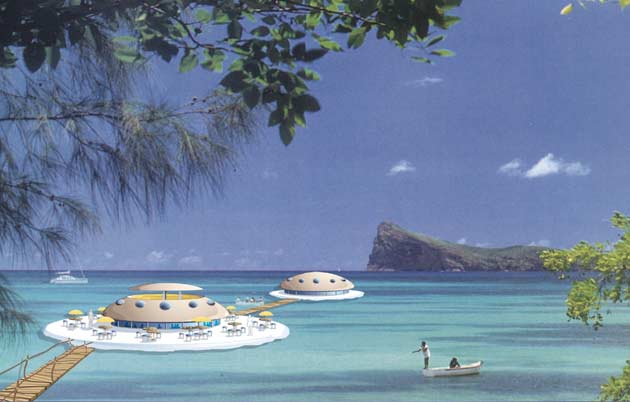 CONSTRUCTED AS VIRTUALLY ROUND SPERES WITH BALLAST, GENERATORS, AIR CONDITIONING,
WATER SYSTEMS, AND FURNISHED INTERIORS, THE AQUASPHERES ARE STABLE AND VERY COMFORTABLE ON THE WATER. THE CIRCULAR FLOATATION RING AROUND THE EXTERIOR GIVES
THE AQUASPHERE THE APPEARANCE OF PLANET SATURN OR EVEN CLASSIC FILM FLYING SAUCERS.
THE OUTER RING IS CONSTRUCTED OF HIGH TECH COMPOSITE MATERIAL, WHICH PROVIDES A
STABLE, ROOMY OUTDOOR SURFACE FOR LOUNGE CHAIRS, DIVING AND EVEN STORAGE OF VARIOUS EQUIPMENT.

WATER VENTURES CAN INSTALL SOLAR PANELS ON EACH UNIT TO POWER THE PODS AND ENCOURAGE SUSTAINABLE DEVELOPMENT. SPECIAL WASTE TREATMENT TECHNOLOGY WILL BE EMPLOYED TO PROTECT THE MARINE ENVIRONMENT. A CENTRAL POD WILL SERVE AS A FLOATING RESTAURANT.
THIS FACILITY WILL ENTERTAIN VISITORS FROM AROUND THE WORLD SEEKING TO SEE THE WORLD'S FIRST FLOATING RESORT.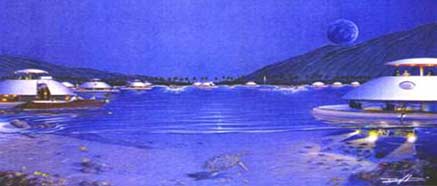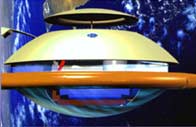 AQUASPERE ARE DESIGNED FOR SHIPMENT WORLDWIDE. PACKED IN
PRE- FABRICATED SECTIONS, THE AQUASPERES ARE INSTALLED AT THE CLIENT'S SITE BY A FACTORY TRAINEDINSTALLATION TEAM. GENERAL INSTALLATION IS INCLUDED IN THE COST OF EACH UNIT WITH SOME VARIATION DEPENDING ON REMOTENESS OF THE SITE AND AVAILABILITY
OF POWER AND WORK SPACE.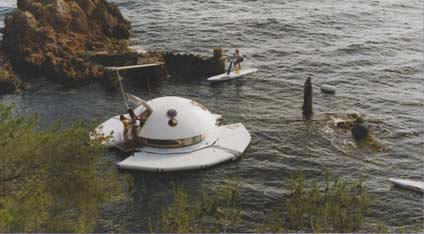 23192 ALCALDE DRIVE, SUITE G
LAGUNA HILLS, CA 92653
PH; 949-470-3299
FX: 949-470-3699