INDOOR & OUTDOOR MINI GOLF DESIGN

Water Ventures' design and build team can assist you with any miniature golf project you can think up.
From preliminary design, to getting your project off the ground, to construction and fabrication of the course, we have the experience to implement your ideas in a cost effective and efficient manner. The resulting high quality and aesthetically appealing mini golf course will provide years of entertainment and revenue.
Click here to see larger views:
Each project will be modulated and adapted to your needs.
The area required to build a 9 or 18 Hole Mini Golf Course ranges from
2,200 to 20,000 square feet.

We can build a mini golf course in 2 ways:
We can form out the land to the contours of the course and pour a concrete course.
We can also supply pre-fabricated in concrete sections from 12 feet to 32 feet with various obstacles, multi-holes, and simulated sand trap hazards. They are heavy duty and will hold up under heavy use.
Click to see our miniature golf constructions: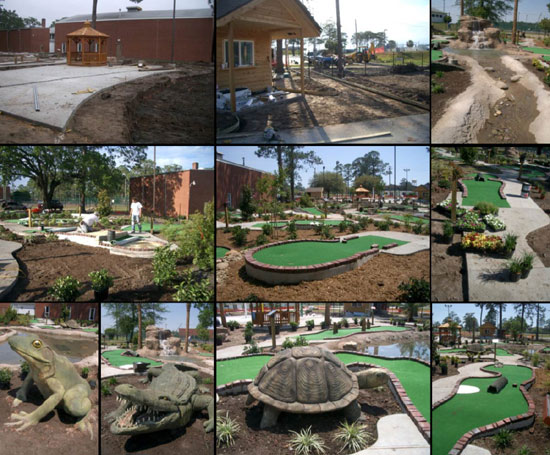 We can supply the equipment (clubs, balls, score cards), as well as optional items such as themed items (rockwork, themed animals, boats, etc.), waterfalls and ponds.

We also have a very fine design team to create any theme, special attraction, or special landscaping as per your requirements. We can design any size course, as well as the clubhouses, arcade buildings, and any other attractions you feel your project needs.